It is often said that breakfast is the most important meal of the day.  What would your choice be for both great taste and the best start possible?  I used to be a strictly cereal man, with an occasional full English breakfast on holiday, but things have changed.  Thanks to the Daniel Fast and its requirement to avoid dairy, I have now discovered a great combination of health, energy and taste. Here's my new top tip for the start of each day:  40g porridge (slow-release carbs which make you feel fuller for longer), mixed to just the right consistency with 200g water (healthy option), and 100g almond or soya milk to give that creamy taste.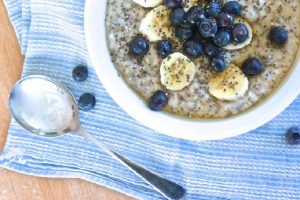 Add to this basic mix 40g blueberries (superfood with vitamins K and C and antioxidants), 12g dried chopped dates (the nearest thing to chocolate for the health-conscious) and sprinkled over the top, 4g of chia seeds (high in fibre, protein and omega 3).   I sometimes add bananas or forest fruits – the combinations are endless.  For me, it is healthy, it works, and it tastes great!
I share this today, not because I have suddenly become a health guru, but because an important lesson comes from the fact that the whole is only as good as the components that go into it.  Each of these rich and varied ingredients plays its part in making the meal the success that it is.
The church (the body of Christ) is much the same.  In 1 Cor 12 Paul speaks of a united church body made up of a diverse range of parts specifically combined as God alone intended.
v18 God has placed the parts in the body, every one of them, just as he wanted them to be.
That is why you are so important to our functioning as a church.  As a fellowship we seek to be effective in the kingdom.  Yet, the full impact of our fellowship is only experienced when the richness of individual members is combined.
This came home to me yesterday afternoon (Sunday 29th April) as we gathered to feed back on what God had been saying to us as a church over Lent.  We have been asking the Lord to show us the way forward – perhaps to reveal more specifically areas of mission he is preparing uniquely for us.  Yet, as we heard the series of testimonies from brothers and sisters committed to listening for God's voice, it became increasingly clear that each insight concerned lessons for individuals, rather than the future direction of the church.  It occurs to me that during Lent, as through our season of 'listening', God has been speaking to, and building up, individuals in their own faith walk.  Of course, isn't this precisely what will make the whole church stronger too?  Like the finest ingredients in a meal, the Lord is preparing his people to make their own invaluable contribution.
Could it be that you are waiting for the Lord to reveal a new direction for the church, like a new dish on the menu, without realising you are one of the ingredients that first needs to make themselves available?
I sensed yesterday that the Lord is inviting us, individually, to see our unique place in what he is preparing.  Are we willing to commit to be available to hear his voice, to be moulded by the Spirit, and to be refined and equipped to fulfil our role?
The Lord longs for his people to take up all that he has prepared for them. He invites us to choose!  Such invitation has come before, but as Jeremiah reminds us, his people have often been slow, or indeed failed, to take their place.
This is what the LORD says: "Stand at the crossroads and  look; ask for the ancient paths, ask where the good way is, and walk in it, and you will find rest for your souls. But you said, 'We will not walk in it.'
Jeremiah 6:16 
Are you part of God's recipe for Parsons Heath?
Steve
Social Share