If anyone was to ask me which of all the birds that God created is my favourite, I would have to say the sparrow. What?? Not the bluetit? – look at those colours! Not the woodpecker? – a flamboyant fisherman! Not the eagle? – flying high and soaring on the up-draughts! No!! For me it has to be the humble sparrow.
I am sitting in our garden enjoying a rest and a cuppa (and a sneaky biscuit) and it is as if I am being entertained in a bird sanctuary or by an avian stage performance. The backdrop is perfect. The sun's rays dance on the leaves of next-door's lilac and holly trees; the brilliant blue of a cloudless sky. Have you noticed the perfect match of blue and green together? To think that in my younger days a fashion adage was "blue with green should never be seen". Not true! God made it so; He breathed it into the palette of creation.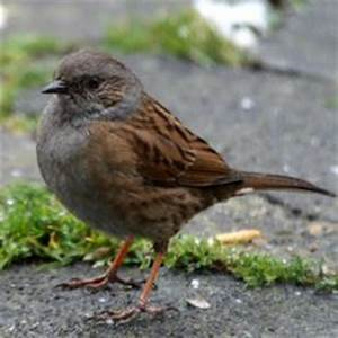 There is an accompaniment of birdsong – more like a cacophony but music to my ears. Squawks and chirps join with the liquid notes of a distant blackbird. Seagulls soar in the blue sky. The blackbird sits on watch in the silver birch, but the sparrows are the main players in this performance.
The costume department has been busy creating one blackbird outfit, black and yellow, glossy and striking; white and grey for the seagull; brown, brown and brown for the sparrows. Have you ever looked closely at the sparrow's costume? – his markings are beautiful – many different patterns and shades of brown. It seems to me that within that one basic pattern there are different variations. And look how cute he is with his hippety-hoppety mode of getting around on the ground, and his jerky flight pattern.
His song, though not exactly tuneful, is so full of the joy of his Creator; when he lets rip and sings his heart out I feel my heart swell with the same joyful praise of my Creator. Praise God that all He requires of us both is to "make a joyful noise unto the Lord".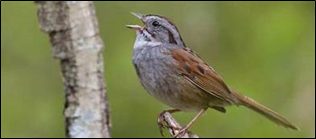 This humble little bird is just one example of the amazingly beautiful and perfect creation of our God.
Two quotes:
"The whole universe was created for planet Earth. Stars and planets were made so that human beings have for millennia fixed times and seasons, and found their way across vast oceans and landscapes. The earth itself was stored with rich minerals for humanity to use and enjoy, and with vegetation in a plentiful supply of fruit and vegetables with all their valuable nutrients for life. Even the animals were created in such a way as to be of maximum usefulness for mankind. In addition to all this, the universe was formed with a spectacular splendour of colour, beauty and order, and the earth with a variety of living things that we have even yet to discover fully. After millennia of human existence, we are still finding creatures on the land, flowers in the field, fish in the sea and stars and planets in the heavens that we never knew before existed".
"You are worthy, our God, to receive glory and honour and power, for you created all things and by your will they were created and have their being".
Quotes taken from "Wonders of Creation" by Stuart Burgess and Andy McIntosh and Revelation 4 vs 11.
Angie
Social Share