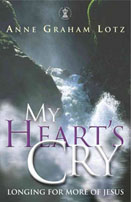 Anne Graham Lotz is the daughter of the American Evangelist Billy Graham, so comes from a good pedigree. She, along with other members of her family follow in her father's footsteps in preaching and teaching from national and international stages.
This book is about her Heart's Cry, the Longing for More of Jesus. Anne writes this book from the backdrop of a difficult and troubled ministry. She was denied platforms to speak from, venues to use and her message denied and mistrusted, much of the objection came from male ministers who did not agree with a WOMAN teaching or preaching to MEN. This caused her to sometimes doubt her calling and she almost gave up, but she trusted her Lord, and her teaching, predominantly to Women but also to many men, was anointed and blessed.
The basis for each chapter is taken from Jesus interactions with the folk around him as recorded in St Johns gospel, my favourite gospel and disciple! Each chapter looks at a different aspect of Jesus love that we would do well to prayerfully seek for ourselves, walking ever closer with Him.
More of His voice in my ear
More of His tears on my face
More of His love in my house
More of His dirt on my hands … are just a few of the chapter titles.
I commend this book to you. The Lord has used it to guide me into my retirement and to encourage me to surrender more of myself to Him … watch this space!
Hopefully, it will soon become available once again from the church library in the hut, but there is a short queue … which I hope will get longer.
Read and be challenged!
Richard
Social Share