As I sit down to write this article with kettle of water freshly boiled and tea bag now floating in hot water, the answer seems simple; just one.  That said, my father-in-law is happy to have all the tea bags used to make other's cups to be added to his own.  This gives it that extra 'Yorkshire Tea kick'.  (Other brands of tea are available).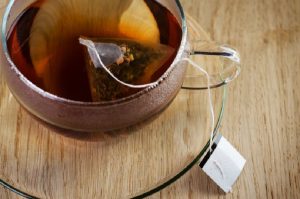 Yesterday, however, as I prepared to come away to the Minister's Conference from which I now write, I managed to use three tea bags to produce my single cup of tea.  This was not deliberate, but the consequence of simply doing too many things to achieve what should have been the simple act of tea-making.  Whilst I was simultaneously packing a bag, tidying the bedroom, ironing some clothes and preparing some lunch, I managed to become distracted for so long that my first attempt was stewed beyond redemption – even for a Yorkshireman. My second attempt was interrupted by both ironing and my responses to last-minute emails before I left.  That resulted in another blackened excuse for a drink, which contained enough tannin to produce leather from any hide.  It was only from the third tea bag that something resembling a blessed and refreshing drink was produced.  If only I had taken just a few moments to concentrate on that one task in hand – rather than having to repeat it again and again.
I wonder how often our attempts to gain refreshment from God end with a similarly unpalatable experience.  How easy it is to set off on our snatched moment of quiet with the Lord, only to be distracted by the events of life; an unexpected phone call; a reminder of an impending task; or a prompt to rush on to the next pressing commitment.  Each legitimate act serves to distract from our original objective.  So often have I been distracted in a quiet time by the embryonic thoughts of a future sermon.
Like a refreshing drink, the Lord too wants to bring us blessing. This blessing and spiritual refreshment which can only come when he is allowed to develop each thought in the living waters of his presence for the right amount of time. Our time with God is time spent building our relationship.  Can you imagine going out for a dinner on Valentine's Day only to have your loved one get up every few minutes to make a phone call, iron another shirt, or add to the shopping list?  Surely, we would be left stewing at our loved one's lack of focus.  Thankfully, the Lord is patient and kind, but in unconditional love for us he is also deserving of our full attention on a regular basis.  This is what it takes to make any relationship work, and for him to bring us the refreshment he longs to pour out for us.
I've been thinking about what I might do to help resolve the problem of distraction.  This Lent, I invite you to join me in considering some simple steps to help keep distractions to a minimum, and to prevent our relationship with the giver of life from becoming forgotten and stewed.
Be intentional in finding space to meet with God.
Try meeting with God at the start of the day, before other demands encroach. This may mean getting up earlier & going to bed earlier!
Be still before you begin. It is hard to focus on God if that time is snatched from busyness. Sitting first with tea may help!
Play a worship song before you begin to focus your gaze on the Lord, or choose a psalm to give inspiration before you start.
Have a pencil and pad nearby. If distracted by a thought, quickly write it down, then get back to your primary focus.
These are just a few thoughts, but perhaps you have other suggestions that may help others.
Steve
Social Share