One of the most famous lines from any film or musical has to be, "Please sir, I want some more." from the 1968 musical drama 'Oliver'.  The young orphan finds himself growing up in the workhouse.  In this renowned scene Oliver has the audacity not to be content for the meagre bowl of food placed in front of him and dares to ask for more.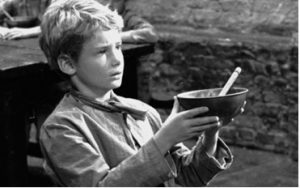 His perfectly reasonable request is contrasted with the expectation of all around him, and not least Mr Bumble (played by Harry Secombe), who runs the workhouse with an iron fist.   The response bellowed by Mr Bumble was one of incredulity. "More? … More?"   The unfortunate residents of the workhouse, considered by many to be the lowest of the low, were expected to content themselves with whatever paltry rations came their way.
I praise God that his generosity towards us could not contrast more powerfully with that of Mr Bumble. Our loving God and Father lavish on us every blessing in Christ.
In a recent prayer time, as we reflected on what God invites us to experience of him, Janet S. shared with us the illustration of a typical electric kettle in which is a mark saying, 'Do not fill beyond this level.'  The point being made was that we are not to consider ourselves like such appliances – limited to a certain measure of water and beyond which we fail to function as intended.  As vessels of living water, there are no limits to how much of God's kingdom blessing we can experience, or how much we can ask to be filled.  For all who seek more of God in their lives with a desire to pour out his kingdom blessings on others, we have the encouragement of Jesus in Luke 6:38.
Give, and it will be given to you. A good measure, pressed down, shaken together and running over, will be poured into your lap. For with the measure you use, it will be measured to you.
When it comes to God's goodness flowing to his people, there is no such thing as rationing.  There is not a hint of austerity in the kingdom of God.
The New Testament speaks of Christians living in the fullness of Christ, not in the half-measures of Christ. In the economy of God, spiritual food comes from an inexhaustible supply, and so to experience God in our lives in abundance.  Jesus said, "A thief comes only to steal, kill and destroy.  I have come that they might have life and have it abundantly" (Jn 10:10)
I believe that right now God our Father is inviting us to know his life in us in abundance – knowing him daily, even hourly, in a deeper way than ever before.  Is this why prayer (our direct and often personal conversation with God) has become such a focus in recent weeks?
I sense this is a key step in our journey as we are prepared, built up for his unique mission call to us.  When a rich and intimate experience of God becomes part of our everyday lives, those around us will more readily see the reality of God flowing through us.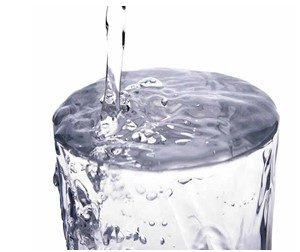 I don't want to be that tired, scaled-up half-filled, kettle.  I want to be God's purpose-made vessel (God's kettle if you like), overflowing with his living water.  I believe his beckoning hands are held out to us and his invitation is to know the gift of his fullness, now.
I want more!  How about you?
Steve Rudge
Social Share