Our Steve laughed when I told him about Fiona our wild pheasant that eats from my hand.   Well let's share the parable of the three pheasants.
Fiona: the female, shy to a degree, skittish if you move too fast, but very slowly we have built up her trust up to the point where it's funny to see her waiting for us to get up in the morning or waiting for us to come home, when she runs across the garden to greet us and comes up to eat from your hand.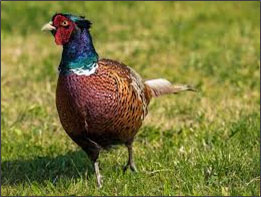 Big boy: magnificent male, brash, cocky, loud but cowardly.  He would hide behind the plants in the garden and be the big guy without getting too involved.  Since Fiona has become bolder he's gradually getting the nerve up to come closer and closer.   He will come to your feet when you sit on the doorstep but he's not yet ready to step in and actually take the food from my hand.   I just toss a little toward him.
Then there's the very young female; very, very nervous. Nicknamed 'road-runner' she won't leave big boys side by more than a foot, unless you move too fast then she will bolt for cover until it's safe to stand alongside big boy again.
So by winning the confidence of Fiona, we are gradually winning the confidence of the other two.   Any food left on the ground is picked over by a pair of white pigeons and whatever small birds that want to tuck in
This makes me think about how we share our faith.   Present the Gospel to one person in your life and who knows who else will be drawn in as we share the word of God's loving sacrifice, about how He so loved us that he sent his Son. I am encouraged by the story of the woman at the well in Samaria. After her encounter with Jesus she ran to tell the people who she knew "I've met a man who told me all things".
Larry
Social Share