So far, this year is promising unexpected and huge income for me.  In the past month I have had three promises of large sums of money.  On 22nd Feb I had an email from a Mrs Williams, who being close to death has offered to transfer to me 20.5 million dollars.  This is for me to use and distribute to charities etc. as I see fit.  Well, that would be nice!  A few days later on 2nd March, I received another email from a Mrs Wilson, of the Ivory Coast, who finds herself in a similar position and would also like to transfer to me 4 million US dollars.  Obviously, as this is a smaller figure it didn't have quite the same appeal, but hey, beggars can't be choosers!  Or, as we shall see later, can they?   Then last week, an encounter with Ted on Bromley Road, led to the prospect of even more millions coming my way.  Well, sometimes you have weeks like that.
OK, you may be suspicious that the first two invitations sound remarkably like scams, in which someone is really after my bank details for all the wrong reasons.  But, "Who is Ted?" I hear you ask? Well, you know how sometimes you have your whole day organised with everything running smoothly; you are even on time for your next appointment, and suddenly a big black horse runs out in front of your car?   No?  Well, maybe it's just me then!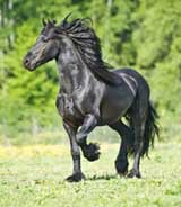 Explanation: On Thursday of last week, I was returning from a visit to Bob and Paula.  As I turned from Bromley Road into Spring Valley Lane, a rather large black Friesian horse (yes, the size of a Shire horse) forced its way through a chained gate and onto the road.  I could not ignore it.  Cars were zipping down Bromley Road and the horse was clearly spooked and excited to be free.  So, I pulled over and spent the next 15 minutes attempting to keep the horse away from cars and vice versa.  Meanwhile, he nervously meandered across the road, into drive-ways and hedgerows, and occasionally made erratic bursts down Bromley Road.  He was not keen to be cornered and each time I almost managed it he looked at me with a stare that clearly said, "Yes, but I'm bigger than you."  Meanwhile, cars were stacking up in both directions and unhelpfully trying to squeeze past the frightened horse.  I signalled to a passing motorist to raise help from local farms and eventually the owner appeared and attempted to restrain the horse, before introducing me to a headstrong 'Ted'.  It was as Ted was being led back reluctantly to his paddock, that the passing motorist said something quite curious.  She said, "Well done. After that you're going to win the lottery!"
I don't think that's quite how God works.  In fact, any reward for me came from being able to do something useful, and through the satisfaction that no animals (or people) were injured in the making of, 'Steve and Ted's Excellent Adventure.'
People have always looked to God to provide material blessing, even though such things never truly satisfy.  Yet, in his grace, God offers something better – riches of a different kind, that are bountiful in measure and eternal in satisfaction.  I was reminded of Peter and Paul, entering the temple in Acts 3. As they too passed a gate (the gate called Beautiful) they met a beggar, lame from birth.  When he saw Peter and John he asked them for money, as that's what he had come to expect to give some measure of comfort.  But Peter replied,
"Silver or gold I do not have, but what I do have I give you. In the name of Jesus Christ of Nazareth, walk."
Jesus came and died that we might have this real treasure.  This is the 'pearl of great price', which Jesus spoke of in Matt.13.  It is a treasure of endless worth and it is offered freely to us in Jesus.  Are we aware, thankful and rejoicing at what we have through Jesus?  The beggar certainly was when he found out.  As we discern how God is calling us to reach out to those in need, are we ready to share our wealth and tell others about the greatest of all treasures?
Steve
Social Share