They say a leopard can't change its spots.  Well, apparently the same is not true for fish!  Last year, ten fish successfully spawned in our pond. Two were multi-coloured but the remaining eight were uniformly black.   Whilst they grew over the year, their colour remained unchanged… until July of this year.  Mid-way through the summer, the once black fish started to exhibit orange markings.  Initially, just a blotch or two around the gills or along the underside, but gradually over the past three months, colour became more widespread as the characteristic markings of gold fish were revealed.
'Face' changed first (yes they have names), then 'Jehoshaphat' & 'Mephibosheth', and now 'Gil (pictured below) is about 80% orange.
Their original, 'black as sin' colour has gone.  It's as though they've been born again!  Even the dark fish below it is now showing early signs.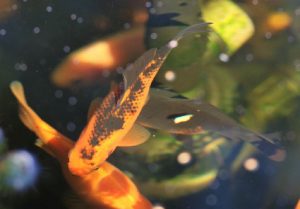 This sudden transformation caused me to ask whether there have been signs of spiritual change in us over the same period.  Perhaps you consider yourself too set in your ways to change, but the Lord delights when his people invite him to bring change – when we seek to grow in him to overcome the human nature we were born with.
When we become Christians, we receive the Holy Spirit within and become a new creation (2 Corinthians 5:17).  Unfortunately, this spiritual change doesn't come alongside a renewing of our human nature – that will have to wait until we join the Lord in glory. Until then, we endeavour to overcome that nature as we seek to be more and more Christ-like.
Refining us is God's work, and he will see it through to the end (Philippians 1:6), but this doesn't mean we just sit back, 'float' through life, and let God take responsibility.  The process demands our willing cooperation with the Holy Spirit.  As we surrender more fully to God, so he helps us to become more and more Christ-like in response (Romans 12:1-2).  This is what leads to change.
God loves us so much; he loves us just the way we are.
but…
He loves us so much, he doesn't want us to stay the way we are.
I don't know why the fish are changing colour – perhaps a hormonal response or fluctuating water conditions – but I do know what brings change in us. It comes through humbly inviting the Lord to work in us as we open ourselves more fully to him.  This is what the line 'Your kingdom come' invites in the Lord's Prayer (Matthew 6).  To ask God to bring his kingdom (on earth as it is in heaven) means to experience his presence through his kingdom values here and now.  It means to yearn for justice, compassion, patience, tolerance, absence of judgement, forgiveness, and so on, and to see them at the heart of our daily circumstances.  Of course, the person we can most influence to realise that is ourselves.
Lord, may your kingdom come… and start with me.
Has there been a change in character in you in the past 3 months?  Has the kingdom of God become more evident in you in recent days, or is your relationship with God exactly as it was this time last year?   It was difficult to see black fish on a dull day or in murky water, but suddenly those same fish are brightening up the pond.  Do you want your Heavenly Father to help you brighten up the lives of those around you as you exhibit his character and values in an otherwise dark world?  I encourage you to consider areas of life in which you struggle to reflect Jesus and then pray that line of the Lord's prayer specifically to make a change.
Lord, may your kingdom come… and start with me.
I have been crucified with Christ and I no longer live, but Christ lives in me. The life I now live in the body, I live by faith in the Son of God, who loved me and gave himself for me.     Galatians 2:20
Steve
Social Share