In these gloriously sunny days recently, when I needed a break from sermons, admin and GDPR especially, I have tended to make a cuppa and pop outside to clear my head.  I love to sit by the pond and feed and chat to 'the boys' – the sixteen fish in the pond.  Incidentally, there were only six fish last year, so it seems they are not all boys after all.  The more time I spent watching them clamouring for food and chasing one another round the pond – they are trying to increase their numbers again – the more I have realised how unique each fish is.  So much so, that I now know them by name.  That may sound crazy, but why not?  Chris and Sam have names for their dogs.  Derek & Leena similarly for theirs and I heard today that Mick and Angie have even named their hedgehog!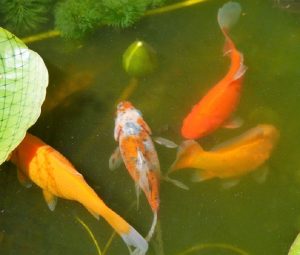 Well now, I too can describe how Duo, Blue, and Multi-21 have each been spawning and so have been chased to distraction by the male fish.  This wanton behaviour means that for now the boys shall remain nameless.   Having given them names, I somehow feel an even greater sense of value and fondness for each of them.
Why do we name our pets?  To call anything, or anyone, by name suggests an individual has significance.  Not just another one in the crowd (or pond), but an individual distinctive in character and being.  The name implies a degree of personal knowledge, but more importantly, it implies an individual worthy of care and consideration!
I am reminded of Isaiah 43:1.
"Do not fear, for I have redeemed you;
I have called you by name; you are mine.
I am humbled to know that Almighty, eternal God, creator of our universe and giver of all life, knows each of his children individually, and calls each of us by name.  Yet when God calls us by name it means far more than familiarity or fondness; it denotes absolute knowledge, devotion and responsibility.  So much so, that in this verse he invites us not to fear, but to take comfort from his love, attentiveness and provision for us.  You are so well known by him, because you belong to him – an adopted child.
Please don't read this paragraph too quickly.  I encourage you to pause for a moment to appreciate the magnitude of God's deliberate action for you!  Individually, personally, and through his unconditional love, God chose you.  Into his constant presence he has invited you. Every moment of the day, he will pour out his devoted attention upon you.  He isn't merely aware of you, he has adopted you.   You became co-heirs with Christ (Rom 8:17).
As we journey, as pilgrims through this broken world, be encouraged that God knows your every move, every faltering step and every anxiety.  He doesn't see you as one in the crowd, as one of many anonymous pilgrims.  He has called you individually, by name!  He has not lost sight of your challenges, nor forgotten your predicament and suffering.  He has called you by name to walk with him personally.  Of course, there is a group calling to be part of his wider church for all who accept Jesus as Lord and Saviour.  Yet above that, he has called you specifically and individually by name.  He has plans for you – as an individual.  He watches over you without ceasing.  God has called you and loves you as the unique individual you are.  He wants you to journey in every moment of every day in relationship with him personally.
We have thought much of God's call to us as a church.  As part of that, is this the time for you to more fully embrace your personal calling too?
Steve
Social Share