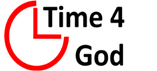 For much of last year many of us committed to prayerfully seeking the Lord's will for our future direction as a church. Two things emerged:
Firstly, we were called to stop our busyness – the many activities that were blessing people but were taking a toll.
Secondly, we were to replace our busyness with time giving God our attention instead. He was inviting us to be restored, refreshed and equipped by him for whatever he calls us to in the future.
The Time 4 God is what he led us to put in place for this purpose.
It remains crucial that we meet together as his people and support one another. Consequently, the first 30 minutes is very informal tea & chat around the tables. It is very relaxed and a great way to see how we are all doing.
We then move in to the Sanctuary – leaving the conversation behind. This is where we focus on the Lord. It is not a prayer meeting, but the point at which we offer our time and attention to God. We begin with a brief reading and reflection, and we may listen to, or watch something. This helps to direct our thinking away from ourselves and on to God.
We then spend the remainder of our time sitting wherever we like around the room, each quiet with his/her thoughts. There are Bibles, notebooks to record personal thoughts, and sometimes visual prompts, but it is basically a space in the week for you to be absolutely silent – just you and God.
It is an invitation for each of us to renew & grow our relationship with God The experience of each person is entirely between them and the Lord.
Social Share