I have been leaving the house very gingerly in the last few days….I leave in fear of what the neighbours will say. This is following our rather radical treatment of the much-loved cherry tree in our shared driveway.  We've all had a disastrous haircut from an over-enthusiastic hairdresser/barber at some point in our lives, but at least hair grows back quickly. A few weeks and all is OK.  Trees given a similar radical trimming don't recover quite so quickly.  Don't judge me; this is the tree in question.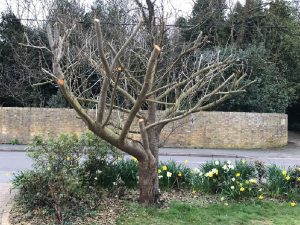 To make things worse, the tree was covered in swelling buds and was just about to burst into flower to give a stunning display – the next photo was the same tree flowering a few years ago.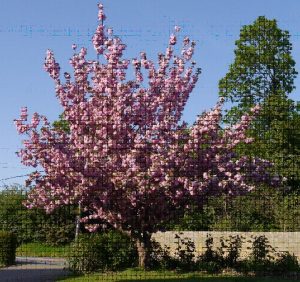 So, was this merely a foolish act of wanton vandalism?
In fact, it was far from being destructive. Rather, it was a timely act of rescue and restoration for a tree close to a major and potentially catastrophic collapse.  However, neither Laurinda nor I were aware of the state of the tree.  It wasn't until a friendly tree surgeon drove past and advised us, free of charge, that our tree would split and break if we did not remove some of the branches.  Once he had pointed it out, it was clear to see……….the trunk twisted under the weight of its top-heavy growth, the branches rubbing on each other and growing the wrong way, the crown which showed that the tree was far too big for its boots!
We are very grateful to the kind tree surgeon for pointing out the condition of our tree and helping us to take the right action to keep it healthy and well for the next ten years.
"I am the true vine, and my Father is the gardener. He cuts off every branch in me that bears no fruit, while every branch that does bear fruit he prunes so that it will be even more fruitful. John 15:1-2
In John 15 Jesus talks of God the Father as the Gardener who prunes. He cuts off the branches that do not bear fruit. When God prunes, it is to keep us healthy. He is the perfect tree surgeon and he knows exactly where and how to prune. He sees where our growth has become twisted through burdens which cause us to grow in the wrong direction. He only prunes to benefit us in the long term. It is not vandalism…….it's survival.
As we approach Holy Week and the wonderful celebration of Easter Sunday, now would be a good time to ask God the Divine Gardener for an insight into our own growth. Are we bearing fruit? Is there a branch or two that needs to go so that we can flourish? Do we trust God enough to pray, "Father, I trust you….show me what is good and what needs to go". Do we trust him enough to do what he says?
I believe we are in exciting times….I have the privilege of seeing our fellowship growing and uniting in its desire to follow God, to see God at work, and to hear his voice. I see themes recurring again and again in our services and in sermons, and I am convinced that God has good things for us. Please join with me in praying for our continued healthy growth, both individually and as a fellowship, as we prepare for Easter.
Oh, have I mentioned I am considering taking up hairdressing as a little side line?
Steve
Social Share