Minister: Steve Rudge
Steve came to the church in 2006 with his wife Laurinda, a secondary school French teacher. Before coming into ministry, Steve was an environmental biologist and developed technologies for growing trees on degraded land. In this capacity, Steve has worked in a number of countries from South east Asia to Africa, and particularly Zambia.




Deacon and Church Secretary: Richard Hudson
I have been married to Jackie for 45 years and have two children and four grandchildren. I have lived in Colchester since birth. I am a retired upholsterer. Jackie and I are very involved with our grandchildren. My interests are photography and aircraft (to anorak level I am afraid!).
PHBC has been my spiritual home since becoming a Christian, however, I am happy to worship anywhere that preaches and worships in the truth of Jesus. The Lord has been incredibly good to my family, especially through some very difficult situations, my favourite scripture has to be "My grace is sufficient for you, for my power is made perfect in weakness". 2 Corinthians 12 v 9.

Deacon: Angie Watson
My name is Angela Watson, I am married to Mick and we have four children, nine grandchildren, two step grandchildren and two great grandchildren.
I have been a Christian for thirty eight years and it is my hope and desire to see many come to a saving knowledge of Jesus, our Saviour, and for to grow in the Holy Spirit. I believe that the Bible is the true, unchanging Word of God. God has never forgotten His Chosen people and the Land He gave to them (Israel and the Jewish people), He is a faithful God who never breaks His covenants and promises. Shalom Aleichem! Peace to you all!
Deacon: Hazel King
Hazel served on the diaconate for several years, after a break she has returned to serve again.
She is a mother and grandmother.
Hazel has a pastoral heart, her role is to support, guide and encourage the church family. She has a passion for church growth and a desire to see God's kingdom extended in her generation.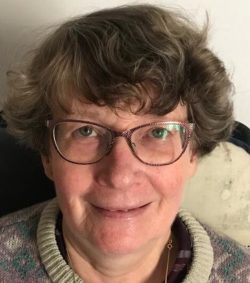 Annelies Barth: Church Baptist Missionary Society Secretary
Children & Vulnerable Adults Safeguarding Officer