On Saturday friends from Norwich came over for a bit of lunch and to enjoy some time in our kayak on the River Stour at Dedham. The weather was warm and sunny, the water was calm, and everyone had a great time. Of course, the idea of a gentle paddle along a quiet slow-moving river, in one of England's most picturesque locations seems idyllic, and the photo below suggests it was indeed all plain sailing. However, navigating this stretch of river is not quite as straight forward as you might imagine.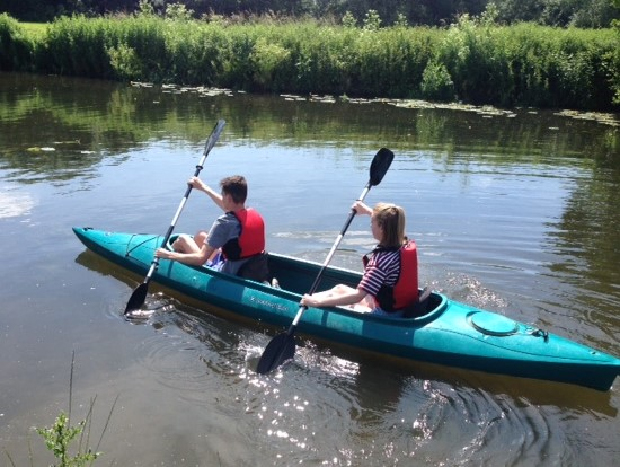 On a warm summer's day, the Stour is awash with visitors making their way by boat to Flatford Mill upstream. Take to the water at midday and a gentle paddle along a peaceful river becomes a challenging test of boatmanship. Firstly you negotiate the dozens of rowing boats passing in both directions. Add to this the fact that many of those renting boats are handling oars for the first time, and the anticipated simple and relaxed journey, turns into a hazardous white-knuckle experience. Boats can suddenly veer in any direction. At times they seem intent on colliding with one another or entangling themselves in riverbank vegetation. Some boats go round in circles as the rowers work against one another and row in opposite directions – a sight often accompanied by sounds of hysteria or raised voices (as this photo of my own family rowing testifies). The result for others using the river; a requirement to focus on what is immediately ahead, and a preparedness to change direction and re-evaluate the best way forward. It is simply impractical to plan a course too far ahead.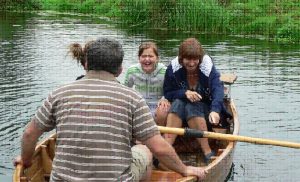 Isn't this a picture of our life's journey? The course of our life involves inevitable unforeseen twists and turns, from circumstances which have little else to do with us. This may be illness or unexpected career, financial or relationship developments. They necessitate that we re-evaluate the next step and change our plans for the onward journey.
This is the principle behind Jesus telling his followers not to worry about what is too far ahead – but to seek God for this day. Therefore do not worry about tomorrow, for tomorrow will worry about itself. Each day has enough trouble of its own. Mtt. 6:34
I believe the Lord longs for us to live in the here and now and not worry about the future. We often plan long into the future, yet we have no control over the events that will unfold, and chop and change repeatedly before we reach that point. God calls us to focus on today; to seek him for direction and for which way to turn in the challenges that are unfolding before our eyes. More than that, he uses such events to teach us reliance on him and not our own human planning. As the Psalmist reminds us (Ps 118:24) This is the day that the Lord has made; we will rejoice and be glad in it.
All this was reinforced to me by one of our visiting friends on Saturday. Five years ago, he had a serious cycling accident. He lost control at speed on a sharp bend and suffered a significant spinal injury. Though he is slowly recovering, he has much diminished mobility and has had to re-evaluate his life and take early retirement. As we sat by the river watching his children disappear on their own convoluted route upstream in the Kayak, listening to the birds sing, and having a newfound appreciation of the scene around us, he said, "This is perfect!" Then he added, "Since the accident, I have learnt to live in the moment."
I believe the Lord would have us do the same; to spend less time worrying about what is to come, to appreciate the wonder of the here and now, and to seek wisdom for just the next step.
Are you struggling to see a way forward? Too many obstacles ahead to see a way through? At such times no wonder we feel overwhelmed. Yet our loving Father knows the way ahead. Why not try to live aware of his presence right now, and so invite him to show you how to navigate one obstacle at a time on this river of life.
Steve
Social Share