My father spent his life working as an engineer. Based on his professional experience he would often say, "They don't make them like they used to." In the last two weeks my experience of modern electrical items persuades me he was not wrong.
Firstly, there was the carpet cleaner. The first time it was used, the motor started smoking. I suspect the carpet was at greater risk of combustion than washing! Then last week, my laser jet printer (less than 3 years old and only now coming to the end of its original toner cartridges) suddenly made loud mechanical noises – suggestive of a catastrophic internal failure.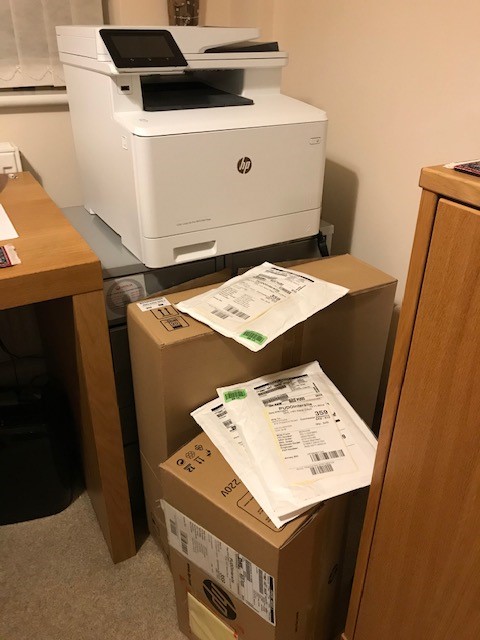 So, what became of these two electrical devices? The carpet cleaner company said they were aware of a problem and immediately sent out a replacement machine. Meanwhile, the printer manufacturer initially sent an engineer to assess the problem, who came with boxes and packets of potential spare parts (stacked in the foreground of the photo), only to advise that an internal 'chewed cog' was not detachable and would probably mean a replacement machine. Two barely used devices, both scrapped in our throwaway society.
I am so grateful that the Lord doesn't treat his children this way. He never discards his people – despite our numerous imperfections and faults. He loves us, cherishes our individuality, and purposely determines to restore us when we have faltered and behaved in an inappropriate way.
Even when we make the poorest of choices and feel irretrievably damaged and useless, we have a God who is compassionate and gentle. He reaches out to us to repair the worst of imperfections and create something wonderful and useful from these once-damaged vessels. I am again reminded of the Japanese art of Kintsugi, in which broken pots are restored with resin dusted with gold. The gold-enhanced cracks are valued as showing the history of the vessel. It is now considered an object of even greater beauty and greater worth. This is how God works in each of his children, no matter how much we have gone astray.
Perhaps the greatest example of God reaching down to transform our brokenness comes through the Christmas story. Even when his creation had rejected his love and guidance, God sent Jesus into the world to restore lives. I suggest Christmas is also a time when the radically different values of man and God are highlighted most. How many toys, games and even expensive electrical goods will be discarded within months of being given this Christmas, because they are deemed too costly to repair. I thank God that, by contrast, there was no cost too great for our Saviour to pay to restore us; no brokenness too severe; no repair too demanding; no cost too high for Jesus.
What an indictment of our society that my printer and carpet cleaner will soon be cast into a landfill site, if not salvaged for parts. Yet, I am confident that despite my many and varied faults I will remain for eternity priceless and irreplaceable in the loving presence of Almighty God. This Christmas, as you open gifts and lament at how transient our world has become, may you know the assurance of being valued and precious in the sight of God – the ultimate designer and creator.
Steve Rudge
Social Share